Narrow Gauge in Wales 2020
Bob Branch has asked that I post this program on the forum. This is the final year that he will be running these charters, so if you have any interest in seeing a wonderful array of operating narrow gauge steam locomotives dating from 1864 to 2020, drop Bob a line at
branchbob@outlook.com
. The events described below are available as a whole or on an a la carte basis. The cost for the whole show is £840. That is ten days of narrow gauge steam for less than two days with the rotary at Chama! Payment will be by PayPal and can be arranged by contacting Bob directly.
Saturday, October 31, 2020
, will be at the Fairbourne Railway from mid morning to late afternoon. We will have our own train and work round the service train. This is a 12-1/4" gauge railway with 1/2 size two foot gauge locomotives in a scenic coastal area. A half size Darjeeling loco, a half size Lynton and Barnstable loco, a half size Welsh Highland loco are operational and a half size North Wales Narrow Gauge loco is on display. Check out their website at [
www.fairbournerailway.com
]
Sunday, November 1, 2020
, will be at the Bala Lake Railway. This is a 2 foot gauge railway that uses a number of ex slate quarry locos. The charter will feature a slate train and a quarry man's passenger train. North Wales was home to dozens of slate mines and quarries going back nearly 200 years. Check out their website at [
bala-lake-railway.co.uk
] The price for this day by itself is £75.
Monday, November 2, 2020
, will be at the Vale of Rheidol Railway. This is a 1'11-1/4" gauge railway running from Aberystwyth on the coast, up a scenic valley, to Devil's Bridge. It was opened in 1902 to serve lead mines. This railway was operated by the Great Western Railway until it was nationalized under British Rail. It was the sole British Rail steam line after 1968, lasting until 1989 when it was privatized. Unlike most preserved railways, it never closed. The charter will consist of one of their former Great Western 2-6-2t's and a mixed train. They have a very large collection of steam locos, many of which are operable. Their website is at [
www.rheidolrailway.co.uk
] The price for this day by itself is £75.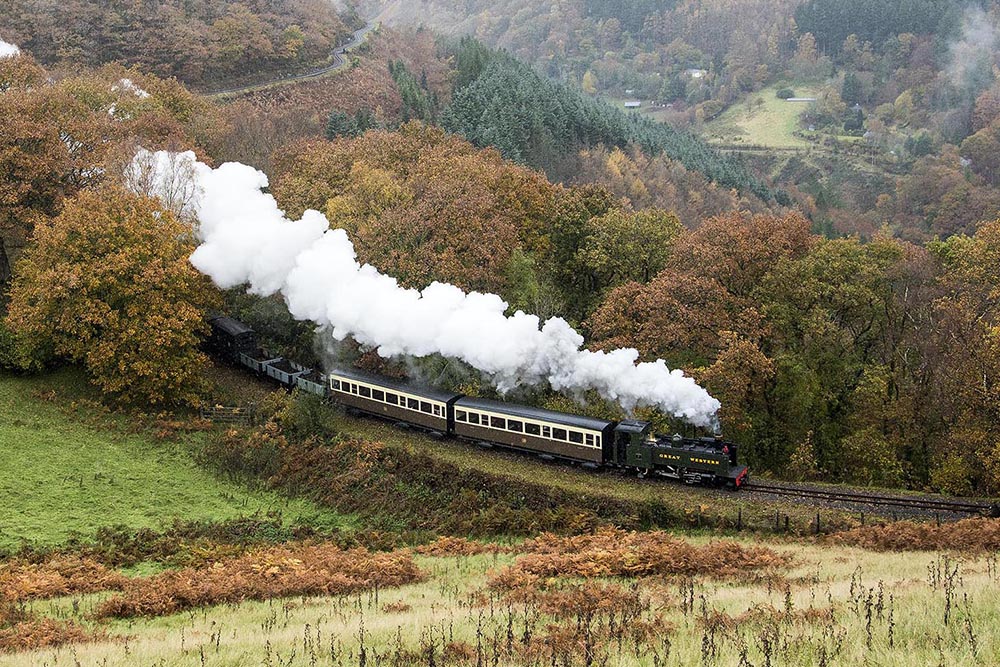 Vale of Rheidol No. 7 at Faen Grach, just before Devil's Bridge.
The location is known to railfans as Cardiac Hill!
Tuesday, November 3, 2020 through Thursday, November 5, 2020
, will be on the 1'11-1/2" gauge Welsh Highlands Railway. This very scenic line is operated with ex South African NGG16 Beyer Garratt's and runs between Caernarfon and Porthmadog, where it connects to the Ffestiniog Railway. One day will feature an authentic South African freight train, using South African freight equipment and brake van. The other two days will be operated with various heritage steam locomotives and rolling stock. Visit the combined WHR and Ffestiniog web site at [
www.festrail.co.uk
] The price for Tuesday November 3, 2020 to Sunday November 8, 2020 WHR & FR combined is £780, or you can buy the WHR only for £ 600.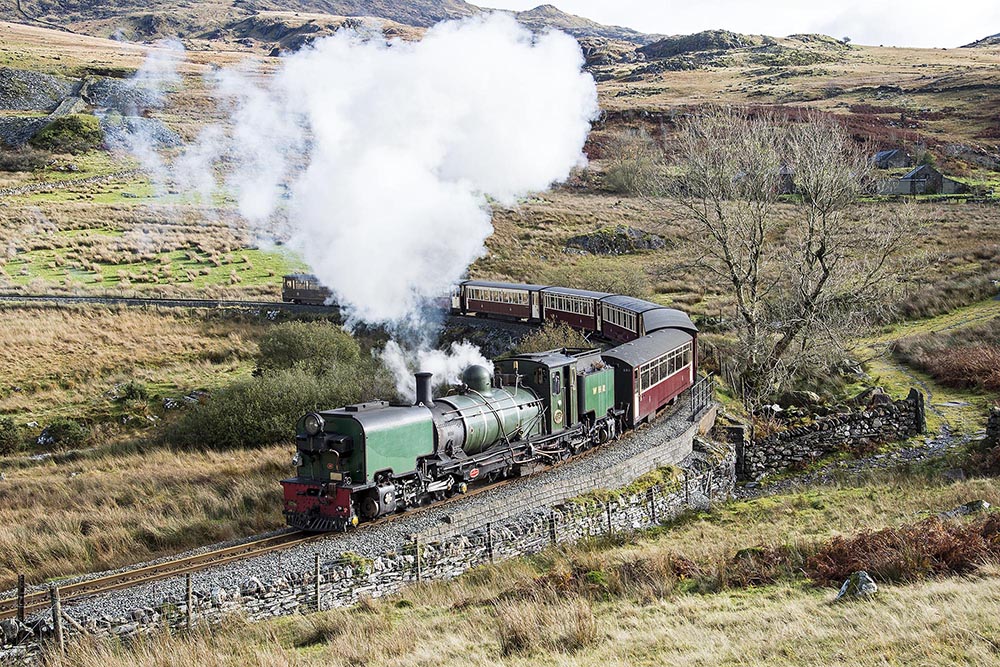 Garratt No. 143 at the big curve before Rhyd Ddu on the WHR
.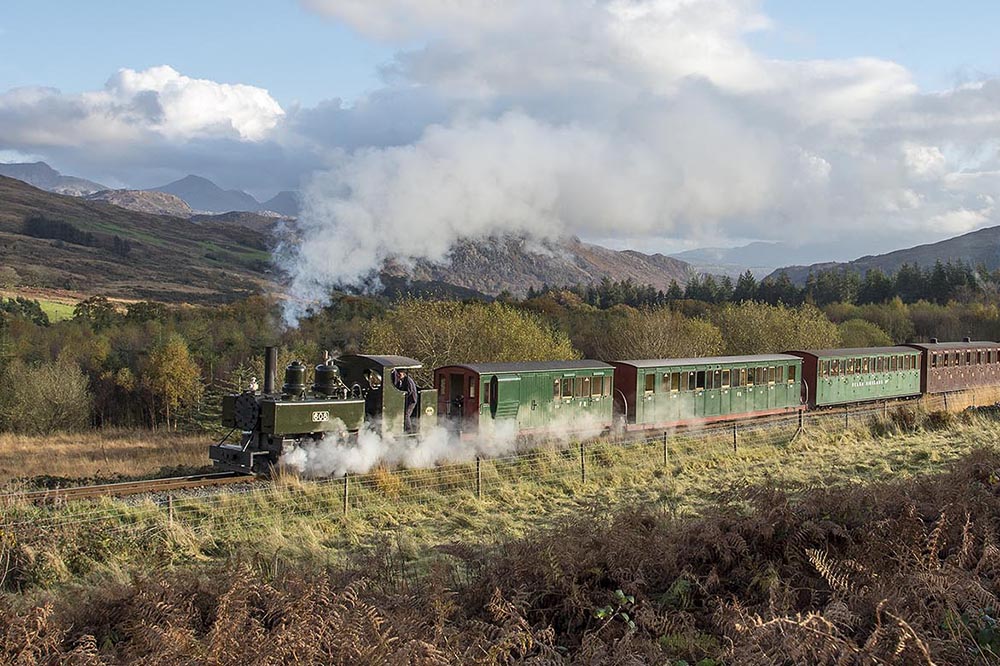 War Department WW I Baldwin trench loco. The WHR had one in the 1930's.
Friday, November 6, 2020 through Sunday, November 8, 2020
will be on the 1'11-1/2" gauge Ffestiniog Railway. This is the oldest surviving railway in the world, having been founded by the Act of Parliament on 23 May 1832. It was built to haul slate from Blaenau Ffestiniog to the harbor at Porthmadog. It was a horse tramway until steam locomotives were introduced in 1863. One of the original 1863 locomotives is still on the property and two of the 1864 locomotives are operational! The railway is best known for its double ended Fairlie articulated locomotives. Three of these will be featured on the charters, along with at least three other non articulated heritage locos. Operation will be a mix of slate trains (you must experience riding in a slate wagon, it is a hoot), and passenger trains with a variety of heritage rolling stock. One of the Fairlies will be the newly built (2020) James Spooner, built by the railway in their Boston Lodge workshops. Visit their website at [
www.festrail.co.uk
] The price for Tuesday November 3, 2020 to Sunday November 8, 2020 WHR & FR combined is £780 or you can buy the Ffestiniog only for £550.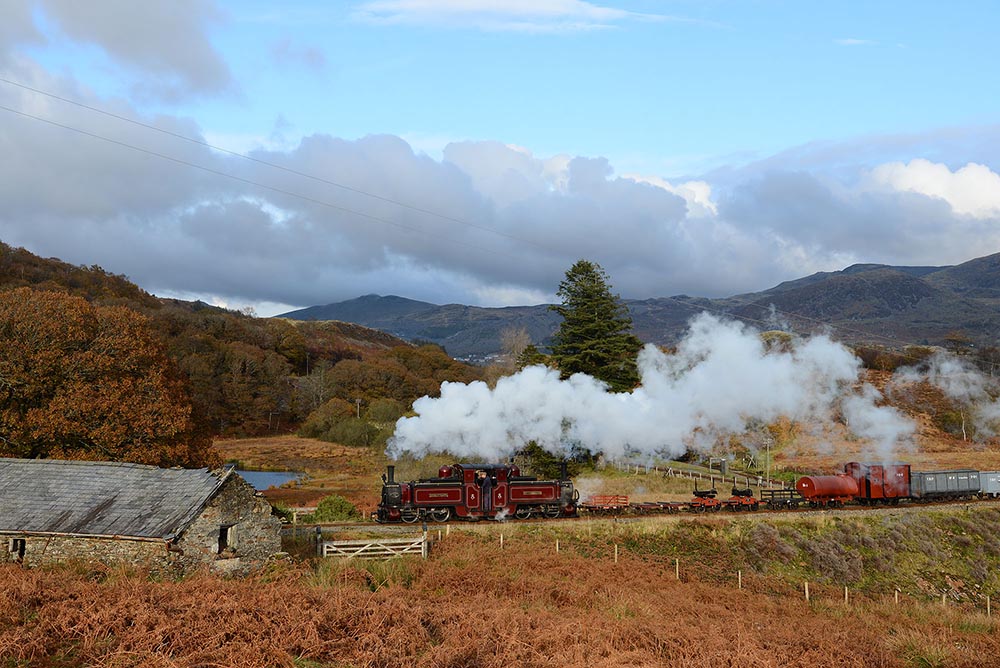 Fairlie Merddin Emrys climbing the spiral loop at Ddualt on the Ffestiniog.
Monday, November 9, 2020
, will be a return visit to the Vale of Rheidol Railway, where their newly restored ex South African NGG13 Beyer Garratt will be used on a South African goods train. There will be a diesel hauled chase train for the charter attendees. The cost for this day is £85.
If this looks interesting, let Bob Branch know at branchbob@outlook.com.
Once again, the price for all ten days is £840.
Additional information for those thinking about taking the charters.
If you are unsure of whether you would like to drive on the opposite side of the road. It is possible to reach the Vale of Rheidol Railway by rail from London or Manchester via Birmingham. The same rail line continues up the coast to Porthmadog where all trains for the Welsh Highland and Ffestiniog charters will originate. The Bala Lake Railway is the only one not reachable by rail, but there is a 45 minute bus service between Barmouth and Llanuwchllyn, the terminus for the Bala Lake Railway. There is train service between Birmingham and Aberystwyth, Barmouth or Porthmadog every two hours on the Cambrian Line.
Bob will be hiring one or two vans to transport participants from the Manchester airport. This option will certainly simplify your visit. Eight people from the US have expressed strong interest, so it looks like two vans will need to be hired. The vans will provide all transport from Manchester to the various charters and return to Manchester. Bob did the same thing in 2019 but with one van for 5 US participants.
If you are up for driving, flying into Manchester and hiring a car would be my suggestion. The highway to Porthmadog is a divided motorway as far as Conway and a two lane highway for the last 45 minutes to Porthmadog. You don't have to experience the narrow stone wall lined roadways unless you really want to.
Since you will be spending a week in Porthmadog, renting an apartment or condo is much cheaper than a week in a hotel. There are apartments for rent within a five minute walk of the Harbour Station for the WHR and the FR. STS Holidays and airbnb have a wide selection available. The charter is after the end of normal service on the railways, so rates are low and there is good availability.
Weather! What can I say? There is a reason England and Wales are so green! Over an eleven day span in November of last year I experienced four cloudy days, four sunny days, a day of off and on drizzle and two rainy days. Some of the cloudy days had sunny patches and the sunny days had periods of cloud. Only one rainy day was an all day affair. We rode the trains that day and enjoyed hot chocolate and cakes at the Tan y Bwlch station cafe.
Michael Allen
Edited 4 time(s). Last edit at 01/12/2020 11:05AM by trainrider47.