Narrow Gauge Railroad Discussion Forum
This is a forum for the discussion of narrow gauge and steam railroading with a primary emphasis on railroads operating in the US. While discussions of modeling are welcome, please try to limit such discussions to issues relating to the prototype. This forum is not associated with any organization or group, and the authors of each post are solely responsible for the content of their post.
The forum is open to anyone to read, however if you wish to participate, you will have to register, and to provide a valid e-mail address. When you do so, you will be sent a confirmation e-mail with a link which you can use to activate your account. You are free to use a handle as your screen name should you wish to do so, however we do ask that you provide a real name in the profile associated with your handle. Beyond that all we ask is that you accord yourself as if you were visiting a friend's house, or roundhouse. Remember, you are responsible for anything you say.
Rights to all posts are owned by their respective authors. All other content copyright 2001- 2012 NGDF, all rights reserved.
This board is owned and operated by
Don Richter
. Others who have contributed to the upkeep of this board are (in no particular order): Herb Kelsey, Everett Lueck, Bill Ramaley, Rod Jensen, Russ Sperry (El Russo Loco), Josh McNeal, John West, Jim Armstrong, Bob Bergstrom, Greg Scholl, Blake Forbes, and Doug van Veelen.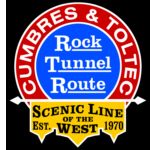 re: NNG - D&RGW standard gauge green boiler ...
Posted by:
Russo Loco
(IP Logged)
Date: January 26, 2012 06:44PM
Tomstp Wrote:
==========================================
> Trains magazine put out a special issue on 4-8-4
> steam engines. On page 38 there is a color shot
> of M-64 #1707 leaving Salida in 1941 with a green
> boiler and you can also tell the lettering on the cab
> and tender are silver. But the engines does not
> have aluminium cylinder heads!
>
> Let the flames begin
all over
[again]!
As you wish, Tom
...

I was hoping someone else would mention that photo so that I wouldn't be the one accused of starting another flame war. The boiler jacket in the photo appears less green than it probably really was - and much less green than the reproduction paint in use on the D&SNG in recent years - since the color films in use back then were not as sensitive to green as they were to red tones. Notice that the (presumably) Pullman Green passenger cars look almost brown.
-
Russeau du Flambeau
p.s. Notice that the quoted message does not cause the NGDF preview and post functions to produce a 406 error message - which has been happening lately - if the long string of dashes is deleted (or replaced by a long string of equal signs, as above).