Narrow Gauge Railroad Discussion Forum
This is a forum for the discussion of narrow gauge and steam railroading with a primary emphasis on railroads operating in the US. While discussions of modeling are welcome, please try to limit such discussions to issues relating to the prototype. This forum is not associated with any organization or group, and the authors of each post are solely responsible for the content of their post.
The forum is open to anyone to read, however if you wish to participate, you will have to register, and to provide a valid e-mail address. When you do so, you will be sent a confirmation e-mail with a link which you can use to activate your account. You are free to use a handle as your screen name should you wish to do so, however we do ask that you provide a real name in the profile associated with your handle. Beyond that all we ask is that you accord yourself as if you were visiting a friend's house, or roundhouse. Remember, you are responsible for anything you say.
Rights to all posts are owned by their respective authors. All other content copyright 2001- 2012 NGDF, all rights reserved.
This board is owned and operated by
Don Richter
. Others who have contributed to the upkeep of this board are (in no particular order): Herb Kelsey, Everett Lueck, Bill Ramaley, Rod Jensen, Russ Sperry (El Russo Loco), Josh McNeal, John West, Jim Armstrong, Bob Bergstrom, Greg Scholl, Blake Forbes, and Doug van Veelen.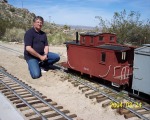 Re: Yesterday at the CRRM
Posted by:
jalbers
(IP Logged)
Date: January 23, 2012 01:28PM
The "Grays Peak" car is C&S 1116/RGS 2102 and is at the CRRM today.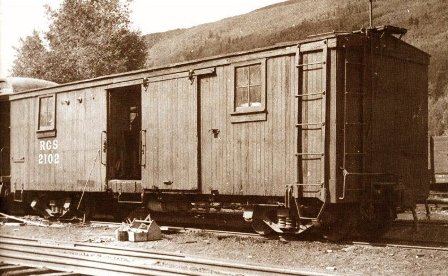 Back in 1972 I tried and tried to purchase RGS #2101. It was in Ridgway and the real owners could not be found. The car had been sold at the Sheriffs auction, to a group in Wisconsin wanting to start a tourist line. The idea never happened and the 2101 continued to sit in Ridgway on original 30 pound rail. Finally Don Drawer persuaded the D&RGW to give the car to him because it was on their right of way in Ridgway and was "in the way". They did just that, but unfortunately, Don never did anything to the car and it sat for all those years at the Flying D Ranch.
I look forward to its restoration. The 2 cars need to be "reunited" for the inaugural run??????
Jerry