Narrow Gauge Railroad Discussion Forum
This is a forum for the discussion of narrow gauge and steam railroading with a primary emphasis on railroads operating in the US. While discussions of modeling are welcome, please try to limit such discussions to issues relating to the prototype. This forum is not associated with any organization or group, and the authors of each post are solely responsible for the content of their post.
The forum is open to anyone to read, however if you wish to participate, you will have to register, and to provide a valid e-mail address. When you do so, you will be sent a confirmation e-mail with a link which you can use to activate your account. You are free to use a handle as your screen name should you wish to do so, however we do ask that you provide a real name in the profile associated with your handle. Beyond that all we ask is that you accord yourself as if you were visiting a friend's house, or roundhouse. Remember, you are responsible for anything you say.
Rights to all posts are owned by their respective authors. All other content copyright 2001- 2012 NGDF, all rights reserved.
This board is owned and operated by
Don Richter
. Others who have contributed to the upkeep of this board are (in no particular order): Herb Kelsey, Everett Lueck, Bill Ramaley, Rod Jensen, Russ Sperry (El Russo Loco), Josh McNeal, John West, Jim Armstrong, Bob Bergstrom, Greg Scholl, Blake Forbes, and Doug van Veelen.
Yesterday at the CRRM, part 2
Posted by:
mikerowe
(IP Logged)
Date: January 22, 2012 01:14PM
Outside, we were running the first of the newly-scheduled trains. Look for the museum to continue to operate these trains every third Saturday of the month. Trains can be either steam or diesel-powered. Call the museum office about a week in advance if you are planning on a third-Saturday visit to find out what's running that particular Saturday.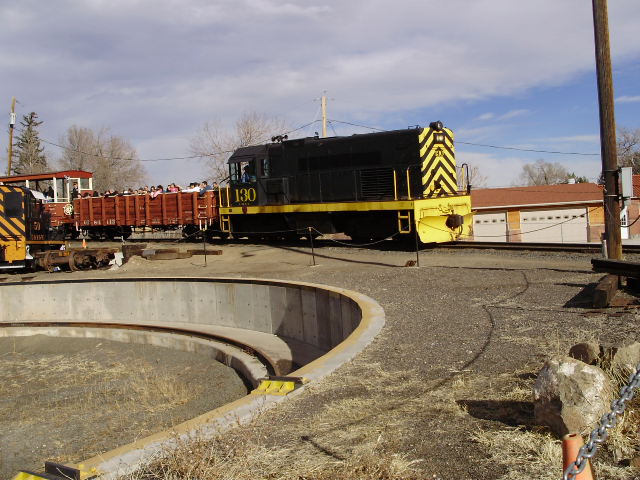 It was a beautiful, partly-cloudy day, with temperatures near 60. Looks like everybody was having a good time.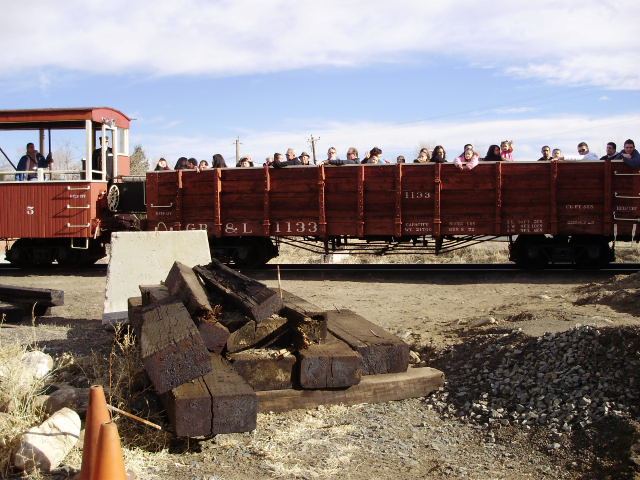 While the folks on the train were having fun, the track crew was busy with the construction of another new radial off the turntable. This Saturday the radial was getting a final tamping.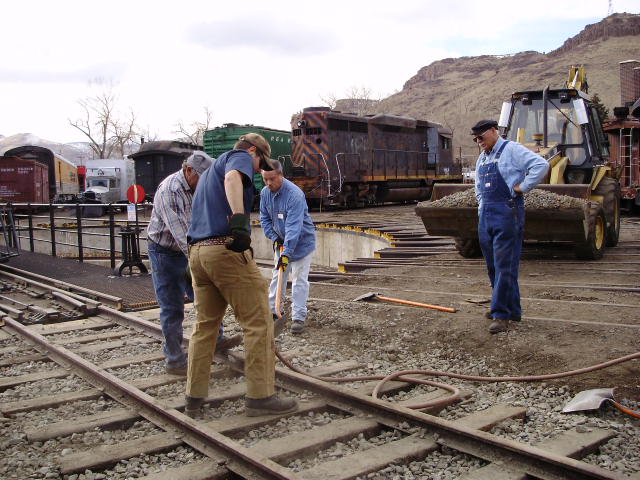 Beneficiary of the second shortest new radial was D&RGW #50. The shortest radial, temporarily storing two trucks, will become home to Pee Wee, the museum's little gas/mechanical. The radial currently under construction will be home to #4, the museum's n.g. center-cab "mill engine." All of the new radials will allow us to clear a lot of clutter out from in front of the roundhouse doors, which will cut down on the extra movements presently necessary to get a car or locomotive in or out of the roundhouse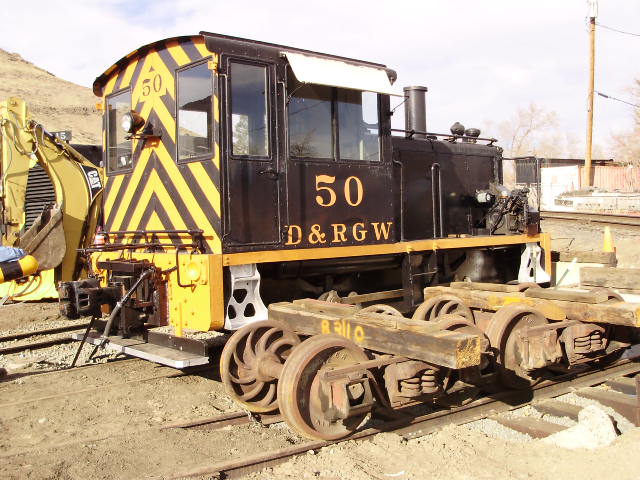 That's it for now. Come see us anytime!
Edited 2 time(s). Last edit at 01/22/2012 01:59PM by mikerowe.